Gallery of Gaited, Park, and Dressage Tack
Gaited & Park Tack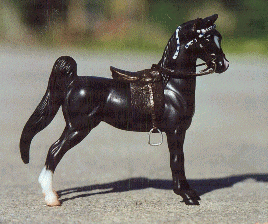 This is a bad picture of my Park Set. I will get much better a pic up that shows the details and buckles and everything. Since this picture it was redone to super LSQ with the correct white girth and everything! Midnight Enchantment, who is sporting this set in the pic, has NAN qualified multiple times with this!

| | | |
| --- | --- | --- |
| | | |
| ABOVE LEFT: This is a VERY COOL TWH gaited set. TWH bridle, chin shain strap (whatever it's called!) and EVERYTHING! This was a custom order and I was so happy with it I had to make one for myself! | ABOVE MIDDLE: Black park set with extremely detailed weymouth bit including chain! Very nice saddle here. The stirrups may look short, but they fit Breyer's SM riders. | ABOVE RIGHT: Black park saddle with TWH bridle and a blue browband with two silver stripes. |

ABOVE: A dark brown park set with a red-stripe browband. This shows the detailing of the bridle extremely well.





Dressage Tack
Below: This is the current type of detailed dressage set I am making, with a detailed weymouth bit: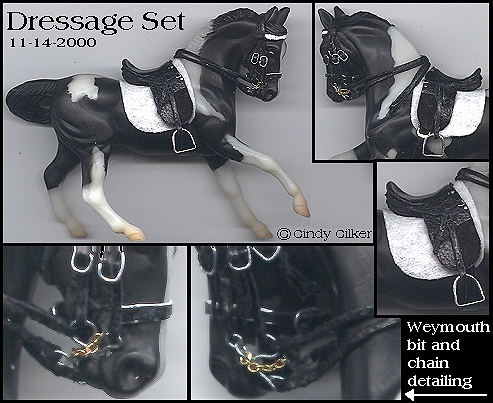 Below: This is the first dressage set I made: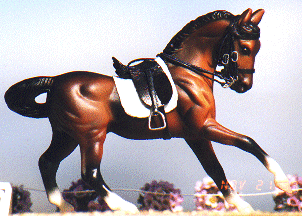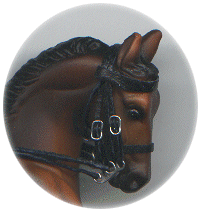 Below:This is an early dressage set I made:


---
[Home] [Gallery of SM Western Tack] [Gallery of SM English Tack] [Gallery of SM Parade Tack] [Gallery of Other Costumes] [Gallery of Micro Mini Tack] [Gallery of Winners] [Prices and How to Order]