---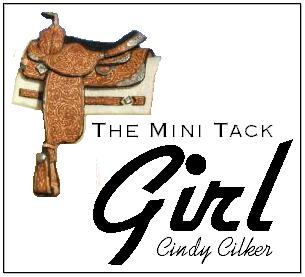 Welcome!

My name is Cindy Cilker, aka The Mini Tack Girl. I made stablemate and micro mini sized tack between the years of 1999 and 2006, when I was in high school and college. I no longer make tack because life goes on and there are so many new and exciting things to do! However, I am finally selling my model horse and tack collection, so...



The Gallery
A MORE LITTLE ABOUT ME

I began making mini tack as a sophomore in high school, not long after discovering the model horse hobby. I began for two reasons: 1) because of the challenge; upon seeing a picture of SM tack in a Just About Horses Magazine and not believing my eyes, I decided "I'm going to do that someday," and 2) since Traditional-sized tack had already been made as realistic and technically correct as possible, but not the smaller scales. So I made it my goal to perfect SM tack. When I began college in 2002 my output decreased drastically to only a few sets a year, so I quit taking orders and only sold pre-made tack on Ebay or the ModelExchange. By then my tack was high quality enough to fetch a good price and supplement me through college. I officially stopped in 2006, when I studied abroad in Spain for a year and then travelled Europe the next summer. Since coming home in 2007 I have been working at a Science Camp in California, selling paintings, working at a coffee shop, and figuring out married life :) Because life is so busy and I love new things, I doubt I will ever go back to tackmaking. However, I wish all of you the best of luck and encourage you to keep pursuing your own goals!


Duana
NAN 2002 CHAMPION Custom Trail
NAN 2002 Top 10 Western Pleasure Custom
SM CM Quarter Horse Mare by Shelly Nelson (Santin) to a Haflinger Pony Mare, wearing a show western saddle set made by me. It has painted tooling and silvering (see #29 in the Western Saddles Gallery).

Serengeti
2001 NAN qualified twice in English Pleasure, 2nd place at both shows
Pamela DeMuth "Rimspark" resin in an english set made by me, with detailed stitching designs on the browband and noseband.
---
Border background created by 2Lazy2 Custom Western Graphics