---
Links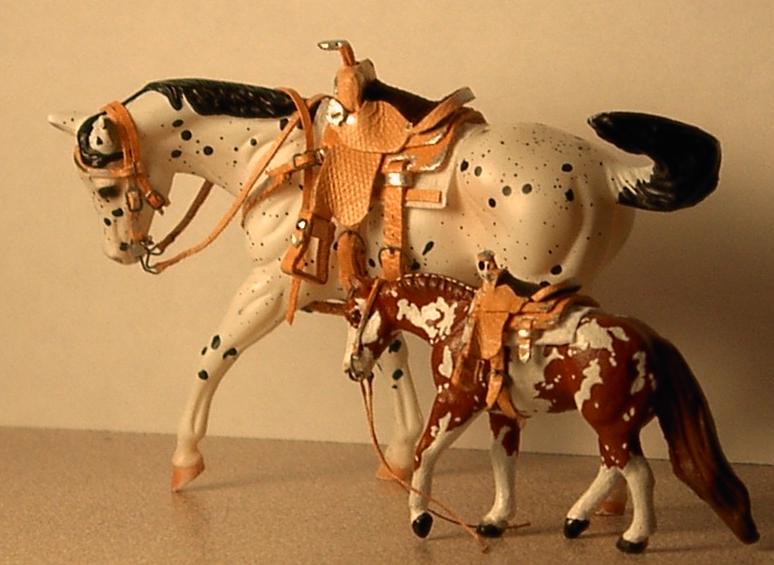 Mini Tackmakers
SM Tack by Kim Ford - super nice stuff here, probably the closest to mine you'll find, with lots more to offer
Becky Yeager's Stablemate Lovers Only - tons of tack, accessories, props, and a ready made saleslist
Full Moon Farms - VERY nice tack
Burgess Horse Works Tack Pieces - Miniature-Scale Native American Costumes with riders
Footloose Studios - the nicest Micro Mini western tack I've seen
Tack by Susan Gage - western, english, harness...
Marston Art - nice little arabian costumes
Lone Horse Ranch - nice western, english, and harness, and other items; micro to traditional sizes!
Lonesome Pine Ranch - good tack for all sizes
Pegasus Island - intricate painstakingly detailed Indian costumes - a must see
LSQ SM/LB Western Show Blankets from Rocking M Ranch - choose from 5 different western saddle blanket styles! CLICK HERE to see webshots of her amazing tack
Spiritwind Farms – SM Tack, Costumes, and More
High Desert Saddlery - has some little SM saddles hidden in there with the gorgeous big ones
Ziyadiah Studios
Carol Howard
ShyUnicrn
Other Mini Links
Horsing Around Magazine - special resins and accessories available to subscribers
Shelly Nelson Gallery - the one who made Duana (above), go check out these great drastic CM SMs!
Sonya K. Johnson – awsome SM CMs and resins!!
Thunderstruck Studio: Pamela DeMuth – super performance SM resins
Sarah Rose - beautiful resins you can't get enough of!
AmunRa Productions - just *gorgeous* mini paint jobs on customs and resins with SO much detail
Mandi Hickman - micro mini 'resins' cast in pewter - extremely detailed for such a small scale!
Laurel Steinert's Home Page – the most beautifully detailed repainted Micro Minis I've ever seen!
Tuscany Studios - be-a-utiful CMs and resins, with a more goodies on the way!
Lazy Moose Ranch - great collection of SMs and one of my biggest customers :)
Lazy Moose Ranch Webshots Gallery - lots of great pictures!
Still Water Farms - stablemate photography service! Halter, headstudy, performance (tack provided!), you name it!
Crazy Acres - lots of repaints and great jumps!
Darian Buckles – many SM resins for show specials
DeeAnn B. Kjelshus: Equine Artist – *great* SM resins for performance!
Animal Artistry – elegant and realistically detailed mini resins and chinas you'll fall in love with!
Grey Willow Studios
The Stablemate Resin Directory – list of SM resins
The Online Mini Showers Association homepage - "a place where...minis [could] show in a club in separate divisions. Online shows are held every month for models of all makes as long as they're equivalent to Breyer's LB scale and under."
The Mini Model Showers Association – "to give mini lovers a place to show their models in both halter and performance … [through] monthly photo show series as well as benefit shows"!
Egroups: Stablemate-Models – "a discussion group for collecting and showing miniature Model Horses that do not exceed 4.5" tall"
Egroups: Smresins – "buy,sell, trade SM sized resins, post info on upcoming resins, share pics of yours, and more!"
---
[Home] [Gallery of SM Western Tack] [Gallery of SM English Tack] [Gallery of SM Parade Tack] [Gallery of Other Costumes] [Gallery of Micro Mini Tack] [Gallery of Winners] [Prices and How to Order]